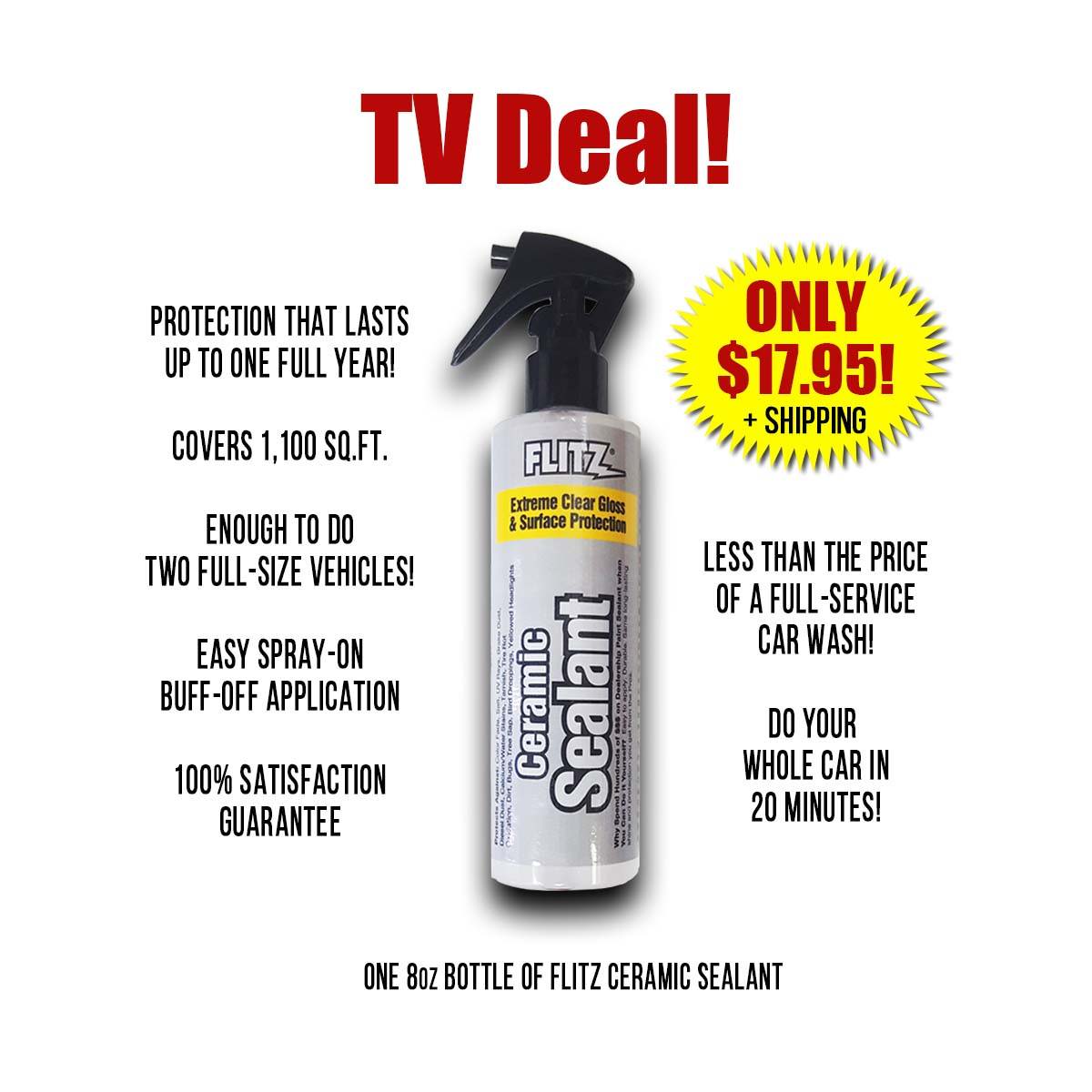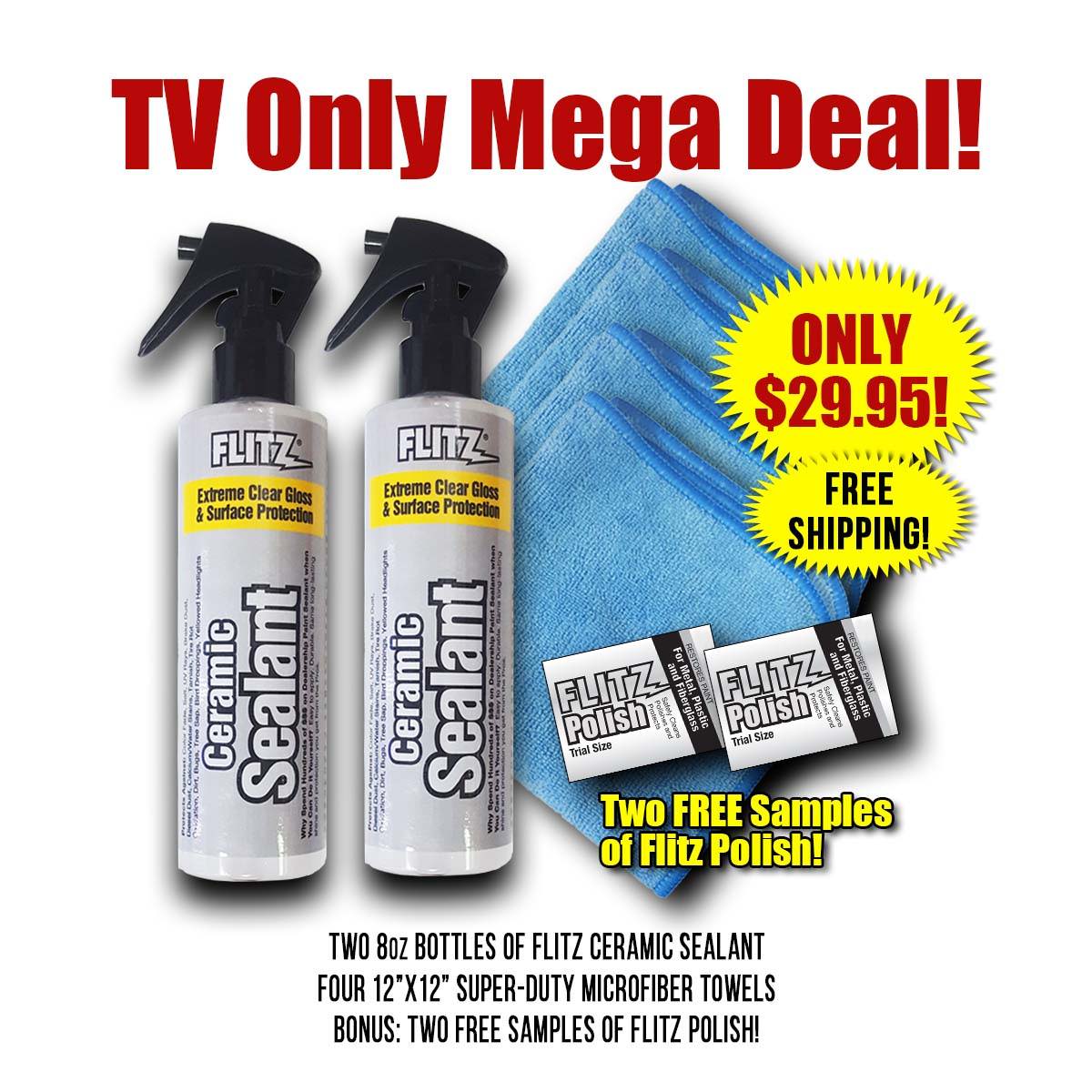 MAKE YOUR CAR LOOK LIKE NEW!
Legendary Flitz Quality! 40+ Years of American Excellence!
Give your car a slick glossy protective finish with Flitz Ceramic Sealant. It's easy! Just wipe on and wipe off!
Works great on bumpers, glass, chrome, all painted surfaces - any hard surface!


FROM CAR LOVERS LIKE YOU!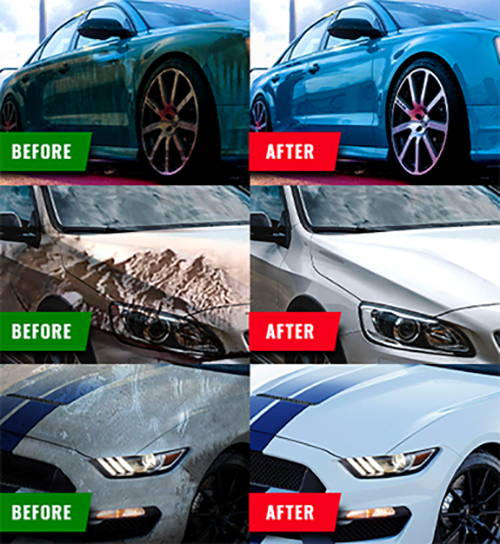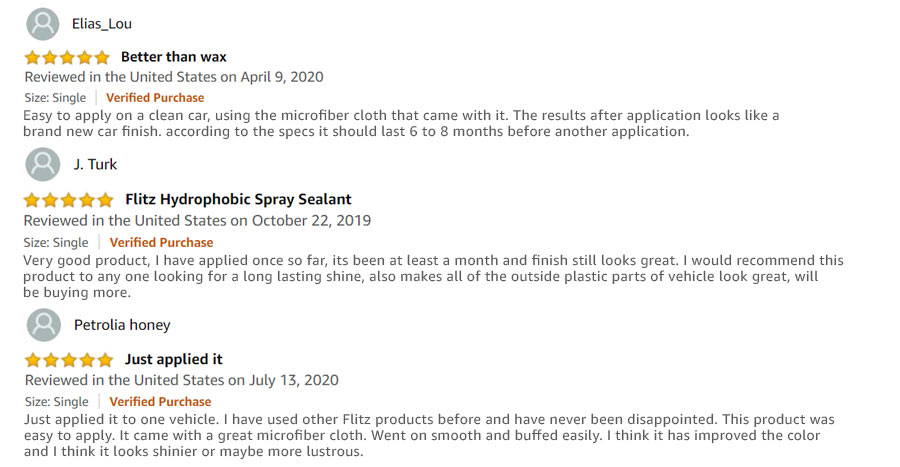 Money-Back Guarantee - Order With Confidence
We want you to be 100% satisfied with your Flitz purchase. Every Flitz product comes with a 100% Satisfaction Guarantee.
If you're not entirely happy with your purchase we will refund your money in full, or exchange the goods.
1. What is the difference between a car wax and Flitz Ceramic Sealant?
Flitz Ceramic Sealant is a nano-ceramic silica Si02 sealant in a quick easy-to-use spray. Waxing is a far less durable method of vehicle protection. A typical car waxing lasts three to six weeks. One application of Flitz Ceramic Sealant will last up to a year depending driving conditions and vehicle storage!
2. How is Flitz Ceramic Sealant different from the other popular brands out there?
Flitz Ceramic Sealant is specially formulated with the same precision and care as our legendary Flitz Polish. It's engineered from the bottom up to create a slick, glossy finish and protect from bird and bug residue, water spots, and environmental and road contaminants.
3. Does Flitz Ceramic Sealant affect the paint on a car?
No, Flitz Ceramic Sealant bonds to your existing paint and acts as a protective layer on top of your paint.
4. What surfaces can I use Flitz Ceramic Sealant on?
Once you see how well Flitz Ceramic Sealant works on your car or truck, you'll want the same kind of protection everywhere! And you CAN! Flitz Ceramic Sealant will provide hydrophobic nano-ceramic protection on any hard surface. Use it with confidence on glass, granite countertops, knife blades, even firearms to provide up to a year's full protection! Please note: Flitz Ceramic Sealant's finish makes it far too slippery to use on floors.
5. How often should I use Flitz Ceramic Sealant on my car?
That depends on your personal weather conditions and where you park. Depending on your local conditions Flitz Ceramic Sealant lasts up to full year. If large beads of water stop forming, then it's time for another application.
6. Does Flitz Ceramic Sealant protect against sunlight, rain, and other environmental influences?
Flitz Ceramic Sealant effectively protects any hard surface against pollution, water spots, harsh UV solar rays, road grime and bug or bird residues. Whatever doesn't repel will easily wipe right off.
7. Does Flitz Ceramic Sealant remove water-spots?
Flitz Ceramic Sealant will remove light water spots when you apply it. However, we recommend you fully clean your vehicle's exterior before applying.